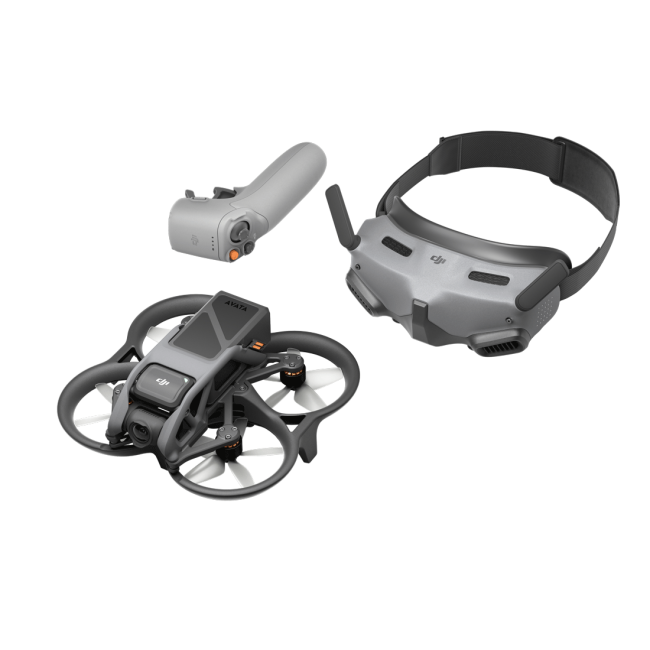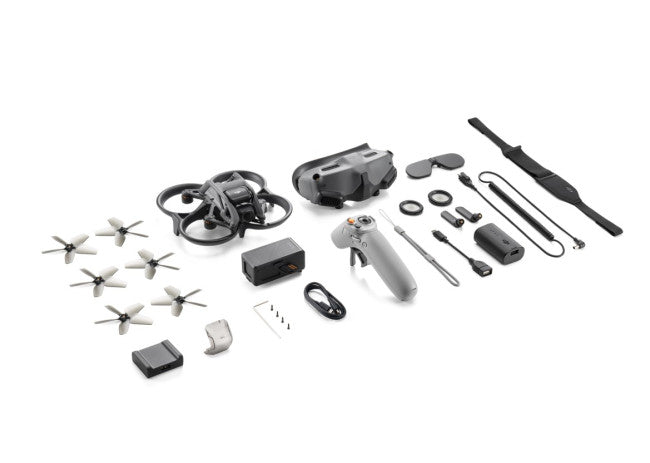 Double click image to zoom in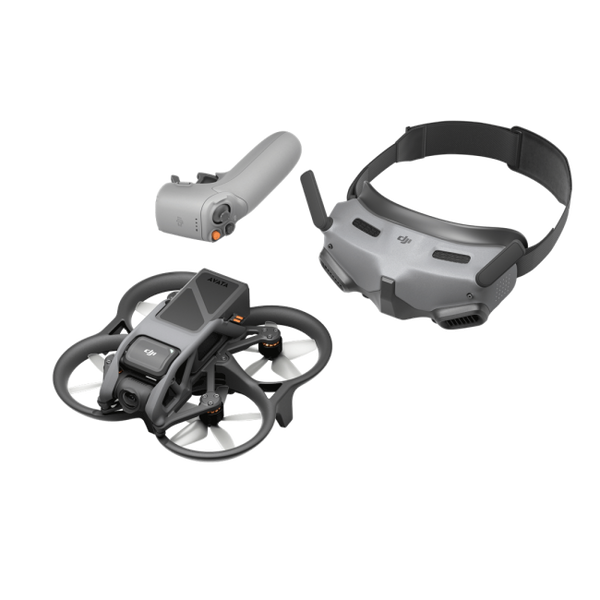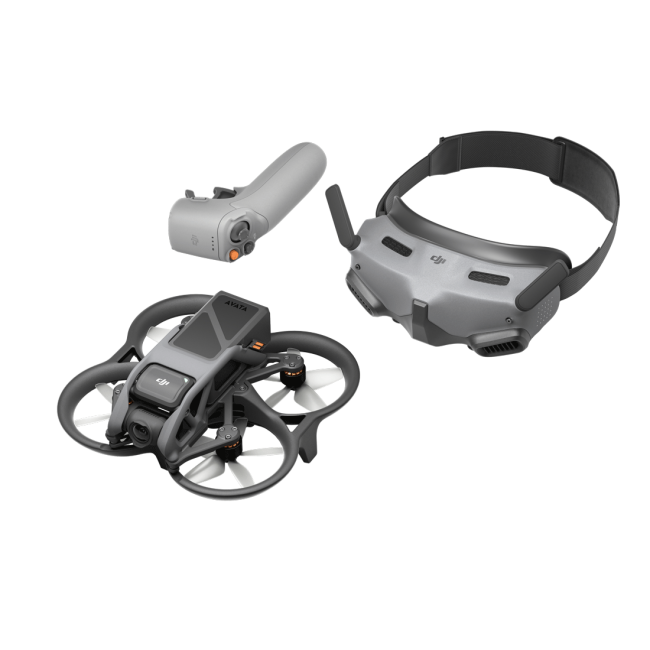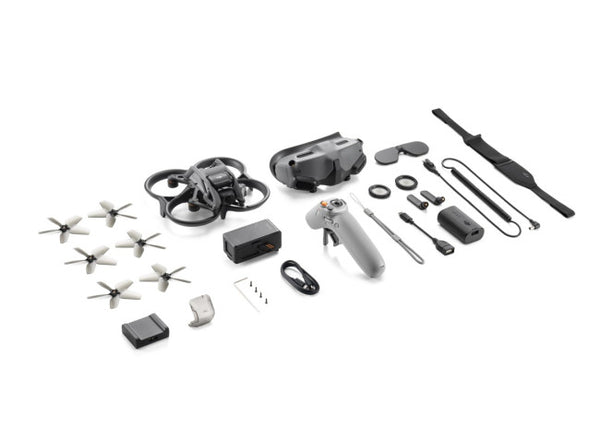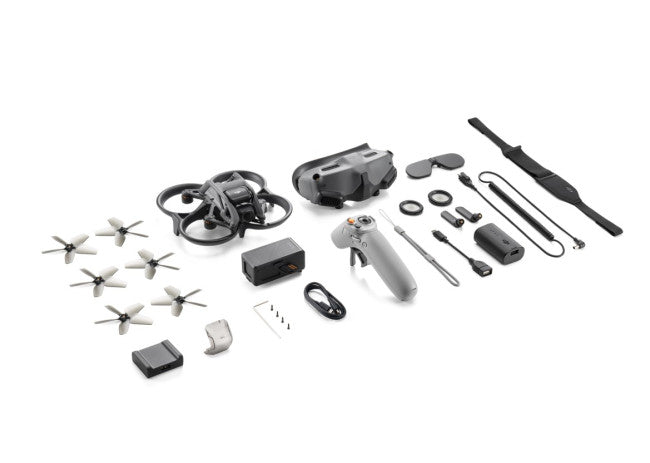 Click image to open expanded view

DJI - Avata Pro View Combo (DJI RC Motion 2 & DJI Goggles 2)
In stock! Usually ships within 1-2 business days
Pickup available at
209 S Tower Avenue
Usually ready in 2 hours
View store information
DJI AVATA
Born to Fly
The Sky is Your Playground
When you combine Avata with the goggles and motion controller, flight becomes accessible to all. Experience the thrill of total immersion with unrivaled safety and control. Embrace your spontaneity and capture the world around you. Some of us were Born to Fly.
DJI Avata | Where Agility Meets Toughness
Compact and lightweight, DJI Avata is nimble in tight spaces. Every aspect of its design was made for you to be bold. The built-in propeller guard means that if Avata comes in contact with an object, it can bounce back, stay in the air, and can keep on flying.

DJI Goggles 2 | Get in the Pilot's Seat
Enjoy next-level comfort and convenience with DJI Goggles 2. Now smaller, lighter, and equipped with Micro-OLED screens, so you experience outstanding clarity as you navigate the sky. DJI Avata also supports DJI FPV Goggles V2.

DJI Motion Controller | Get a Feel for Flying
With the DJI Motion Controller, intuitive flight is in your hands. Squeeze the trigger and bolt forward or turn a corner with the swivel of your wrist. The controls are easy to use and provide a totally unique way to fly.

The Perfect Package
DJI Goggles 2 are compact, and ultra-portable. The foldable antenna and lightweight design make them easy to store, comfortable to wear, and suitable for long-term use. With a two-hour battery life and super-fast charging speeds, you can always be ready for immersive flight.

1080p Micro-OLED Screens
Feel every flight with DJI Avata and Goggles 2. The two HD Micro-OLED screens offer stunning clarity and a refresh rate of up to 100 Hz. The goggles present a smooth full-screen live feed in front of your eyes, creating an immersive world of limitless potential.

Diopter Adjustment
DJI Goggles 2 offer diopter adjustment from +2.0 D to -8.0 D for optimized viewing and comfort. Lock the adjustment knob to fix the diopter in place and prevent accidental touches during use or storage.


A Breakthrough in FPV Visuals
Equipped with a 1/1.7-inch CMOS sensor, DJI Avata supports 4K ultra-wide-angle recording with an f/2.8 aperture. Together with high-grade imaging performance, it delivers exceptional visuals that will keep your audience on the edge of their seats.

1/1.7-inch Sensor
4K/60fps Video
155° Super-Wide FOV
D-Cinelike Color Mode
RockSteady 2.0 EIS
HorizonSteady EIS

155° Super-Wide FOV
Most camera drones offer, at best, an 84° FOV. DJI Avata kicks things up a gear with its super-wide 155° FOV. This expanded perspective is closer to what we see with our own eyes, creating impactful, hyper-immersive visuals.

Smooth Shooting
Keep your footage stable as you swoop and dive with RockSteady 2.0 and HorizonSteady. These flagship technologies open a world of cinematic possibilities by reducing camera shake and ensuring smooth ultra-HD video.

Agile in the Editing Room
Dive into a world of colors by shooting in D-Cinelike mode. Make your footage pop with advanced color grading in post-editing and turn your creation into a masterpiece.
Your Rugged Companion
Portable and Ready for Adventure
Avata adopts a new innovative design that is made with convenience in mind. It is more lightweight, compact, and easy to carry.

Be Bold. Fly Far.
DJI Avata is built tough, so you can be brave. The durable frame reduces the risk of damage, giving you more peace of mind. The new ducted aerodynamic design optimizes power efficiency allowing for an impressive flight time of up to 18 minutes.

Soar and Explore
Rediscover your surroundings with complete freedom and find incredible ways to capture video. DJI Avata's flexibility in various scenarios opens up a world of creative possibilities.
 Fly Where Others Can't
Capture truly unique footage as you weave between branches, under bridges, and through corridors, filming in places previously inaccessible.

Turtle Mode
Should Avata fall on its back, activate Turtle mode with a few simple taps and watch it spring back into action.


Downward Obstacle Sensing System
In addition to the built-in propeller guard, Avata features downward binocular vision and ToF infrared sensing for even greater safety. These sensors detect obstacles below and allow Avata to perform low-altitude or indoor flight.

Who Said Safety Isn't Fun?
Enjoy the experience with less flight anxiety. The motion controller's Emergency Brake button lets you stop on a dime at the tap of a button. And with support for RTH, you get added protection when the battery is low or signal drops out.

Low-Altitude Flight
Try out Avata's low-altitude flight and safely glide tantalizingly close to the ground. This, combined with the super-wide FOV, creates an exhilarating, one-of-a-kind perspective.

Halt and Hover
Tap the Emergency Brake button if you encounter a situation that requires an abrupt stop. Avata will hover in place, reducing the risk of potential accidents.
Transmission You Can Depend On
Avata features DJI's flagship O3+ video transmission and 2T2R omnidirectional antennas for unrivaled stability and responsiveness during flight. Enjoy a crisp and smooth real-time view in your goggles, even in environments with interference.
1080P
Max Video Transmission Quality

100 FPS
Max Video Transmission Frame Rate

30 MS
Lowest Video Transmission Latency

10 KM
Max Video Transmission Range

50 MBPS
Max Video Transmission Bitrate

H.265
Video Transmission Coding

Master Your Moves
DJI Avata is compatible with multiple remote control devices that each unlock different possibilities. The flight simulator is perfect for sharpening your skills or trying our different control modes that will offer enriched visual effects and new opportunities.

Ultimate Precision
Fly in Manual mode with DJI FPV Remote Controller 2 to achieve advanced flight movements, stable aerial photography effects, and diversified visual language for filming.
Practice Makes Perfect
The DJI Virtual Flight app is applicable to both computers and smartphones and contains a variety of simulated scenarios. You can practice indoors or outdoors, polish your flight skills, and become a master pilot step by step.
DJI Avata x 1
DJI Avata Intelligent Flight Battery x 1
DJI Avata Propellers (Pair) x 3
DJI Avata Power Adapter x 1
DJI Avata Gimbal Protector x 1
Type-C to Type-C PD Cable x 1
Screwdriver x 1
Screws x 4
DJI Goggles 2 x 1
DJI RC Motion 2 x 1
DJI Goggles 2 Dual-Band Antenna (Pair) x 1
DJI Goggles 2 Battery x 1
DJI Goggles 2 Eyeglass Frames (Pair) x 1
DJI Goggles 2 Screen Protector x 1
DJI Goggles 2 Headband x 1
DJI Goggles 2 Power Cable x 1
USB-C OTG Cable x 1
Lanyard x 1
USE OF WEBSITE PAYMENT SYSTEM

All payments made via this website will be the full charge of the purchase at the time the order is placed.  This includes special order and pre-order items.  If orders are cancelled before shipping a non-refundable transaction fee will apply.

RETURN POLICY

We offer a 10-day 'buyer's remorse' return policy on brand new purchases. Unopened boxes can be returned with no questions asked within the 10 day period from purchase.  Customer is responsible for shipping costs.

Opened product can be returned within the 10 day period but must be in like new condition and working order and not have been operated nor activated (subject to our discretion). Opened boxes will incur a 20% restocking.

Activated units are not returnable. Special Order items are NOT returnable.

All software, care codes, shield codes or insurance codes are non-refundable & not returnable.

After the 10 day period, all new sales are final.

Any defective merchandise needs to be reported to Blue Skies Drone Rental within 1 business day of receipt of the order and must be verified by Blue Skies Drone Rental.

Shipping and shipping costs are the responsibility of the customer.

The above policy does not apply to used purchases or to drone rentals.

Rentals are governed by the drone rental lease agreement.

USED PRODUCT SALES: The product can be returned within 3 days from delivery but will incur the equivalent rental fee as posted for the equipment for that time period. Any defective merchandise needs to be reported to Blue Skies Drone Rental within 1 business day of receipt of the order and must be verified by Blue Skies Drone Rental.  Following 3 days after delivery Used drone sales are final.

Shipping Policies:  We use DHL, USPS and FedEx as our shipping providers.  Generally they work well for us.  However, there are no guarantees on shipping.  If you use an express shipment method, there is no guarantee you will receive an item in 1, 2 or 3 days.  We do not offer refunds if shipping does not arrive on time for any reason. 

WARRANTY POLICY

NEW PUCHASES: Standard manufacturer warranty applies.  Customer must work with the manufacturer to get warranty service.  We can help you with the warranty process as part of our included services if you purchased from us.

USED PURCHASES: We offer a 30-day warranty for manufacturer defects affecting functionality.  Some units may have remaining manufacturer warranties.  This varies from product to product.

RENTALS: Rentals are governed by the Drone Rental Lease Agreement.

DRONE RENTAL LEASE AGREEMENT
While the FAA does not require insurance for drone flights, we highly recommend having insurance in case of mishaps with flying drones.  When you rent a drone it is your responsibility to use it in a manner consistent with the laws and return the drone in the same condition it was in before rental.  

There are two types of insurance for drones. 

Liability: One is liability insurance, this will cover your flights in the event of a crash or incident.

Hull Coverage: Hull coverage covers the drone if it is damaged.  Typically you must have liability insurance to get hull insurance.  The Sensor may also be covered separately if it is a removable sensor.

Check with your insurance provider to see if they cover the drone rental and flights.  If they do not, we highly recommend that you have insurance when you are flying drones.  We have found that Skywatch.ai offers some of the best options for Drone Insurance.
We boast a very large and diverse drone rental fleet of the latest aerial equipment for applications in cinematography, photography, inspection, survey, mapping, agriculture, power & energy and many other industries.
Do we offer Financing?  The short answer is YES we do!

To determine the best financing option, we need to determine if you are interested in a personal financing option or if you will be using a business to finance your purchase.

BUSINESS OPTIONS:

We work with 2 different companies for financing.  Each Organization has their own criteria for purchases. These Financing options are for US customers only.

BNC Financial
Specializes in equipment funding from $500 and up. Follow this link to to the the

 

financing application

.

First Pacific Funding
Financing options from $5000 and up. Follow this link to go to the 

financing application.

APPROVE Commercial Financing.  Add an item to your cart, then click on the APPROVE logo for an inline application on the right hand of your screen. Monthly Payments and rates vary depending on final terms.




 PERSONAL OPTIONS:

There are also 2 options to work with on a person level.  Think of a this as purchasing on a credit card and paying it off in a short time period. These are Buy Now, Pay Later options. Keep in mind that you may also use the personal options for business too.

Affirm 
Buy now, pay later without the fees.  Affirm is the smartest way to pay over time. Shop pretty much anywhere and pay at your own pace without any fees, so you can get the things you love without breaking your budget.  

Affirm is built into our website.  Click on the product you are interested in purchasing, then click on the 'Pre-qualify now' link.



Click Here to see the details on how it works


Shop Pay
This payment option works similar to Affirm.  If you do not see the shop pay option on the product page, click on "More payment options.

The Look for the button.

 

We look forward to working with you on your adventure into the drone space.  We encourage you to look through some of our Industry pages above.
Our on-line store is open 24/7 and we ship Monday through Thursday, excluding some holidays. Orders received for products without shipping restrictions on its product page will ship the same business day when received before 12:00 p.m. PST. Orders in high demand will have an estimated time listed on its product page and will ship according to the date listed.

Our on-line store is open 24/7 and we ship Monday through Thursday, excluding some holidays. Orders received for products without shipping restrictions on its product page will ship the same business day when received before 12:00 p.m. PST. Orders in high demand will have an estimated time listed on its product page and will ship according to the date listed.

Signature is required for most shipments.

*How long does it take for you to ship a product?*
This depends on your location, the method of shipping and the item you choose.

For in stock items inside the USA we typically ship by UPS and FedEx and for small items we ship by USPS. We typically ship items within 1-2 business days of the order for in stock shipment.

Ground Shipments can take up to 5 Business days from our Washington location. Express options are available by contacting us, but UPS and FedEx do NOT guarantee any shipments at this time.

USPS typically takes 2-3 business days for the smaller items by priority mail.

International shipments are typically sent by DHL or FedEx Express. Please note you are responsible for any customs fee, taxes and brokerage fees that may be due by importing an item into your country.

SHIPPING NOTES:

Orders under $50 = $25 Ground Shipping & Handling
Orders $50-499.99 = $20 Ground Shipping & Handling
Orders $500 or higher = FREE Ground Shipping & Handling
Contact us for Express Shipping Options
DHL Available for International Orders
Talk to an Expert

844-474-8833