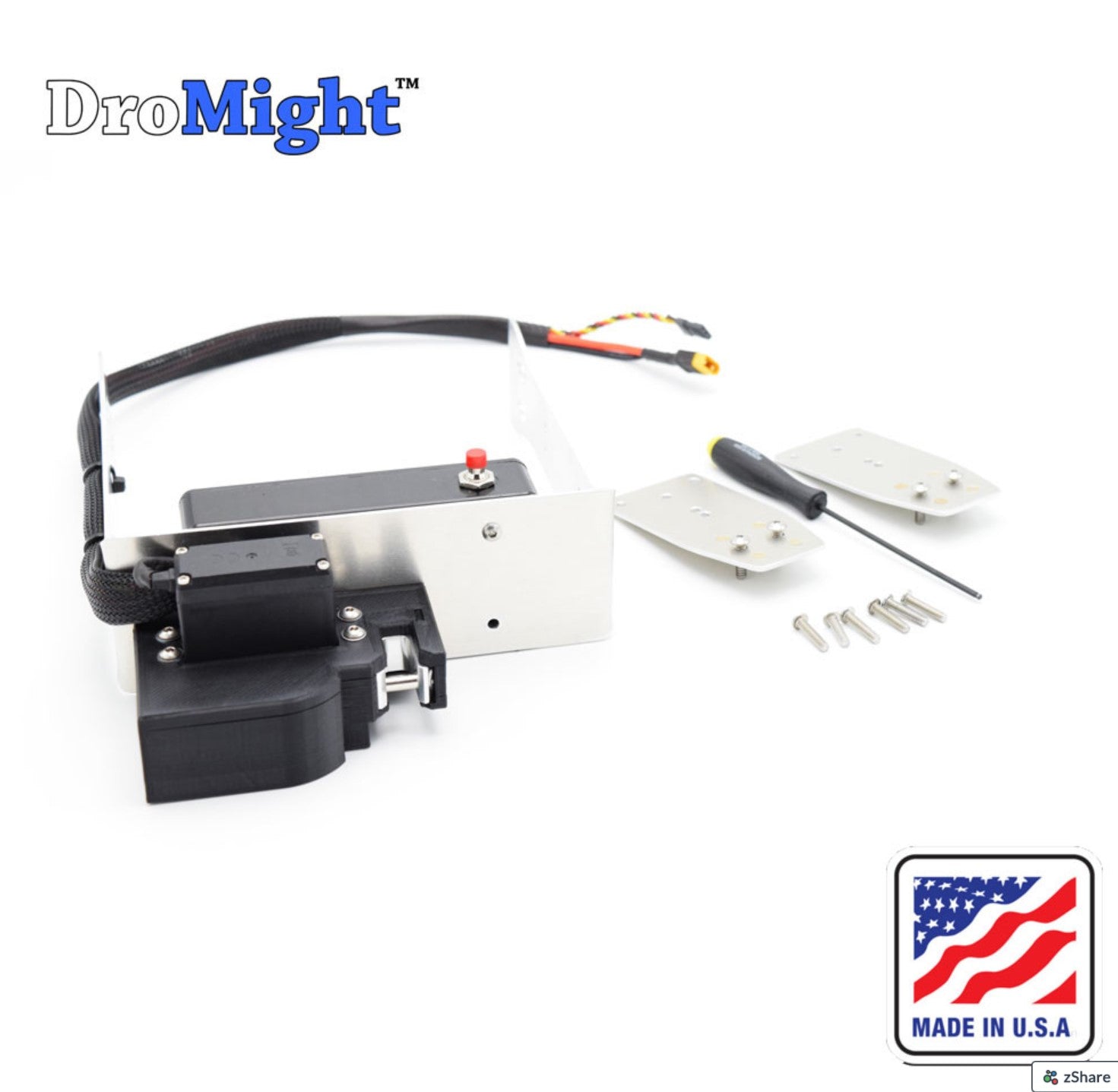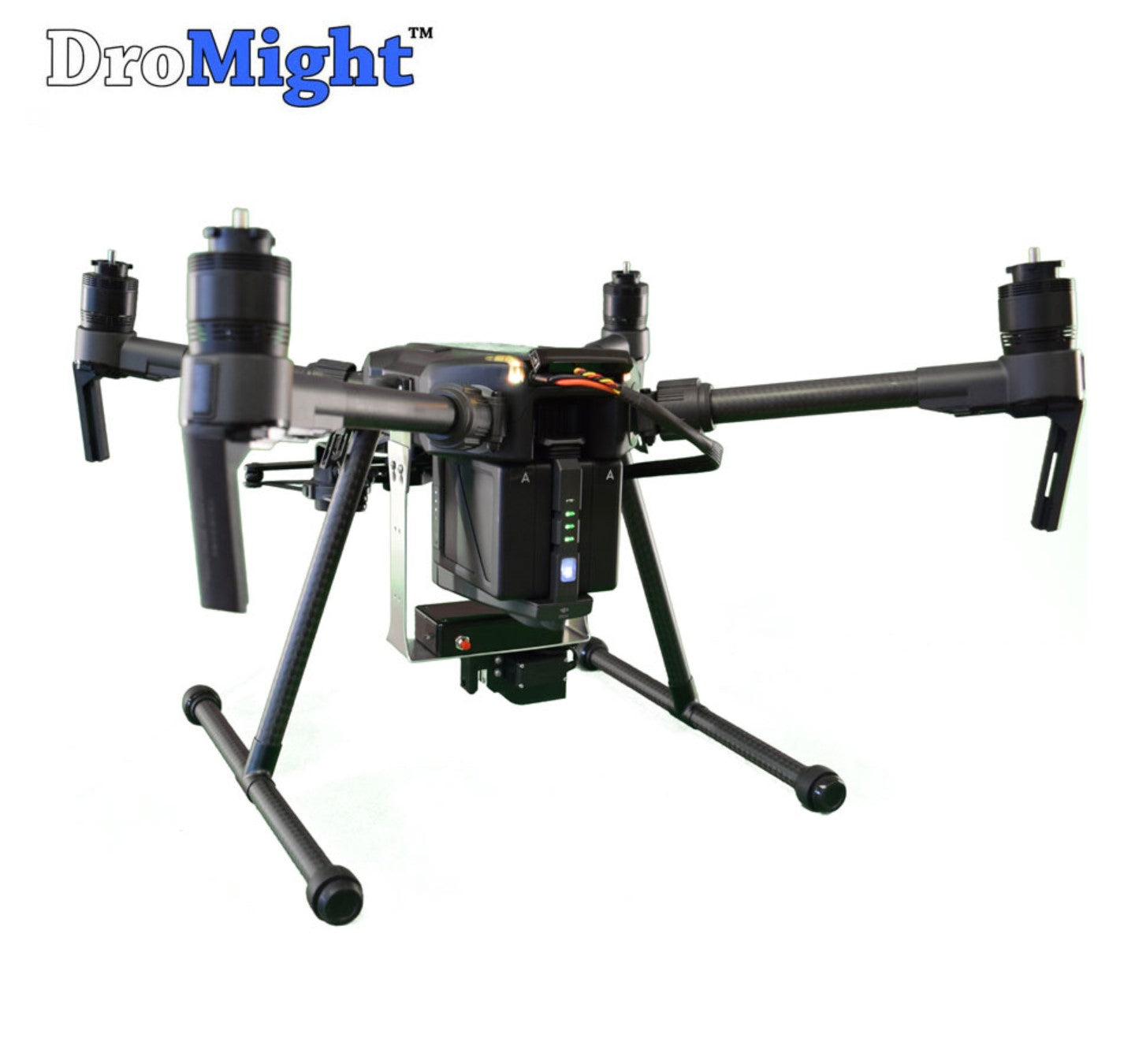 Double click image to zoom in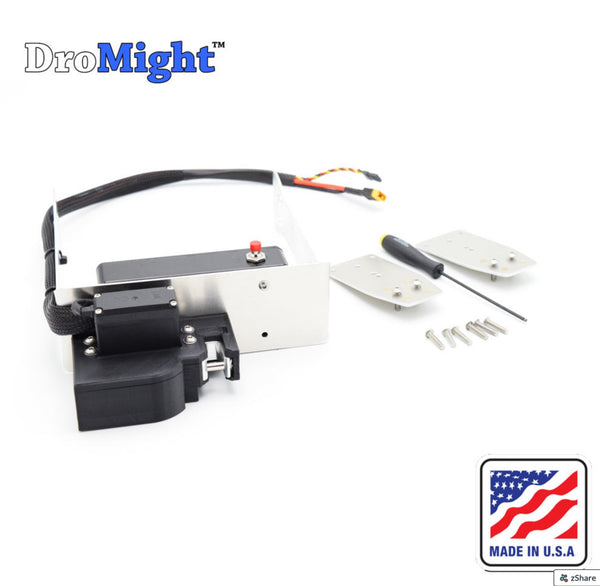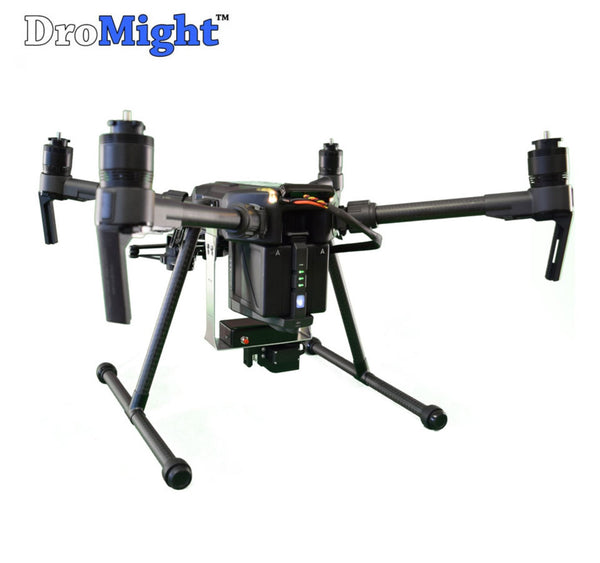 Click image to open expanded view



DroMight Talon Drop System - DJI Matrice 200 Series
Special Order - This item is a special order and delivery will be longer than normal. You can still order this product, and it will be shipped to you as soon as stock arrives. 
The DroMight Talon is the ultimate drop system for the DJI Matrice 210 V1 and DJI Matrice 210 V2. This modular system allows the operator to quickly install and uninstall the Talon drop system in less than 30 seconds. Using your Matrice 200/210 Cendence controller you can map a button to the drop system so that you can remotely trigger a drop with ease. Once you've mapped a button on your controller, you can command the DroMight Talon to drop your payload by clicking the mapped button three times. There is no other payload drop system on the market that can compare to the DroMight Talon.


The Best Drop System Available For Your DJI Matrice 210 V1 and V2 Aircraft

The DroMight™ Talon payload drop system is the only true professional drop system available for your drone.
We've heard from countless drone pilots who fly drones for public safety agencies and they've told us that they are not comfortable using the drop systems that are available in the market. In fact, a good number of them have held off on purchasing a payload drop system because they are concerned with safety and reliability. They've been wanting to use a payload drop system to help save lives but they are not comfortable deploying any of the devices that were in the marketplace prior to the DroMight™ drop system. What is it that they did not like about the drop systems available in the marketplace? We know that there are a lot of words on this page but we promise you that each word is worth reading. There is only one thing more important that purchasing a drone payload drop system for your public safety team and that is, buying the right payload drop system for your public safety team.



Drop Your Payload By Pressing A Button On The Drone's Controller

Yes, it's that easy - and it should be that easy. Unfortunately, the competitors just don't know how to do this. The DroMight™ Talon uses state of the art software combined with a high end microcontroller that makes it possible to assign a button on your remote controller to initiate the drop. In fact, The DroMight™ Talon takes it one step further to make sure that you cannot accidentally drop the payload. Using the DroMight™ Talon drone payload drop system it goes like this: Attach your payload to the drone and fly to your drop zone. Using your drones integrated camera system, aim your camera on the drop zone by pointing the camera 90 degrees down from the level postion (also know as the Nadir view). When the camera tells you that you are over the drop zone, stabilize the aircraft and press the assigned button on your remote controller three consecutive times - one, two, three and your payload will immediately release from the aircraft. Notice that using the DroMight™ Talon, you don't have to divert your attention away from the mission at all!

The Modular Design Makes It Easy To Install and Remove

The initial installation of the DroMight™ Talon consists of installing the Talon's mounting tabs on your drone. This takes about five minutes using the parts and tools included with the kit. After the initial installation, the mounting tabs will live on your drone as there is no need to ever take off the mounting tabs once installed. The mounting tabs are so small and light-weight, weighing in at only 26 grams. When you are ready to put your DroMight™ Talon to work, it takes less than 30 seconds to attach the Talon to the mounting tabs and off you go! The Talon was design with public safety experts in mind; when you are up against the clock and you are trying to safe a life, minutes matter! Click on the video to the right to see how simply it is to install the Talon on your DJI Matrice 210 aircraft.



Our on-line store is open 24/7 and we ship Monday through Thursday, excluding some holidays. Orders received for products without shipping restrictions on its product page will ship the same business day when received before 12:00 p.m. PST. Orders in high demand will have an estimated time listed on its product page and will ship according to the date listed.

Our on-line store is open 24/7 and we ship Monday through Thursday, excluding some holidays. Orders received for products without shipping restrictions on its product page will ship the same business day when received before 12:00 p.m. PST. Orders in high demand will have an estimated time listed on its product page and will ship according to the date listed.

Signature is required for most shipments.

*How long does it take for you to ship a product?*
This depends on your location, the method of shipping and the item you choose.

For in stock items inside the USA we typically ship by UPS and FedEx and for small items we ship by USPS. We typically ship items within 1-2 business days of the order for in stock shipment.

Ground Shipments can take up to 5 Business days from our Washington location. Express options are available by contacting us, but UPS and FedEx do NOT guarantee any shipments at this time.

USPS typically takes 2-3 business days for the smaller items by priority mail.

International shipments are typically sent by DHL or FedEx Express. Please note you are responsible for any customs fee, taxes and brokerage fees that may be due by importing an item into your country.

SHIPPING NOTES:

Orders under $50 = $25 Ground Shipping & Handling
Orders $50-499.99 = $20 Ground Shipping & Handling
Orders $500 or higher = FREE Ground Shipping & Handling
Contact us for Express Shipping Options
DHL Available for International Orders
While the FAA does not require insurance for drone flights, we highly recommend having insurance in case of mishaps with flying drones.  When you rent a drone it is your responsibility to use it in a manner consistent with the laws and return the drone in the same condition it was in before rental.  

There are two types of insurance for drones. 

Liability: One is liability insurance, this will cover your flights in the event of a crash or incident.

Hull Coverage: Hull coverage covers the drone if it is damaged.  Typically you must have liability insurance to get hull insurance.  The Sensor may also be covered separately if it is a removable sensor.

Check with your insurance provider to see if they cover the drone rental and flights.  If they do not, we highly recommend that you have insurance when you are flying drones.  We have found that Skywatch.ai offers some of the best options for Drone Insurance.
We boast a very large and diverse drone rental fleet of the latest aerial equipment for applications in cinematography, photography, inspection, survey, mapping, agriculture, power & energy and many other industries.
Do we offer Financing?  The short answer is YES we do!

To determine the best financing option, we need to determine if you are interested in a personal financing option or if you will be using a business to finance your purchase.

BUSINESS OPTIONS:

We work with 2 different companies for financing.  Each Organization has their own criteria for purchases. These Financing options are for US customers only.

BNC Financial
Specializes in equipment funding from $500 and up. Follow this link to to the the

 

financing application

.

First Pacific Funding
Financing options from $5000 and up. Follow this link to go to the 

financing application.

APPROVE Commercial Financing.  Add an item to your cart, then click on the APPROVE logo for an inline application on the right hand of your screen. Monthly Payments and rates vary depending on final terms.




 PERSONAL OPTIONS:

There are also 2 options to work with on a person level.  Think of a this as purchasing on a credit card and paying it off in a short time period. These are Buy Now, Pay Later options. Keep in mind that you may also use the personal options for business too.

Affirm 
Buy now, pay later without the fees.  Affirm is the smartest way to pay over time. Shop pretty much anywhere and pay at your own pace without any fees, so you can get the things you love without breaking your budget.  

Affirm is built into our website.  Click on the product you are interested in purchasing, then click on the 'Pre-qualify now' link.



Click Here to see the details on how it works


Shop Pay
This payment option works similar to Affirm.  If you do not see the shop pay option on the product page, click on "More payment options.

The Look for the button.

 

We look forward to working with you on your adventure into the drone space.  We encourage you to look through some of our Industry pages above.