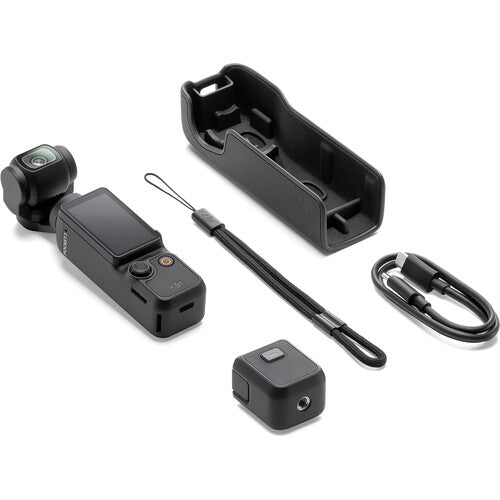 Double click image to zoom in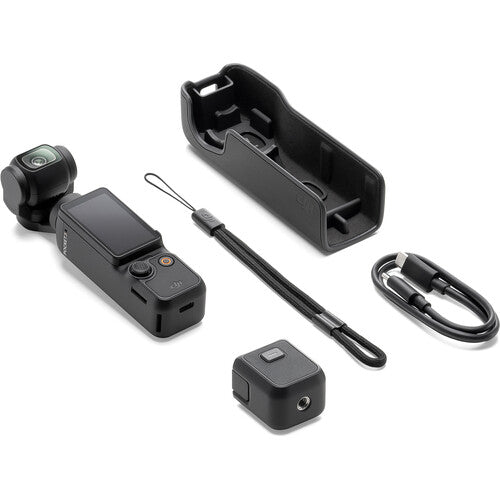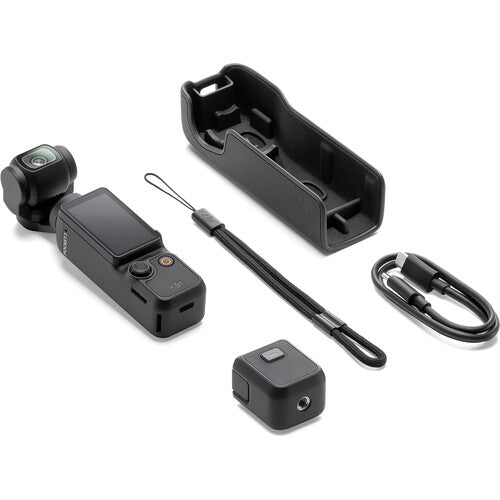 Pre-Order - This product has recently launched and we have not received our initial batch. Please note all pre-orders are shipped out in the order they are received.
DJI Pocket 3 Overview
Capture steady and smooth motion videos with the DJI Osmo Pocket 3. Boasting a wide range of upgrades over its predecessor, the Osmo Pocket 3 features a 1" CMOS sensor that ensures high-quality, low-noise footage acquisition even in high-contrast environments and with resolutions up to UHD 4K120.Three built-in microphones capture stereophonic sound while reducing ambient noise, and new software enhancements bring ActiveTrack 6.0 to your fingertips for precise subject tracking in both photo and video modes with smart horizontal and vertical shooting modes, as well as D-Log M and 10-bit support.

Adjust settings and check the live view of your camera using the integrated 2" touchscreen, which is rotatable to allow for quick orientation selection. The lightweight and very compact 3-axis gimbal stabilizer provides reliability when shooting action sequences or for capturing sporting events and other action-laden content for family videos, concerts, and other live-streaming applications. A microSD card slot facilitates internal recording and a rechargeable integrated battery provides operating time of up to 166 minutes when fully charged using an optional USB charger and the included USB-C PD cable. Wi-Fi and Bluetooth wireless connectivity are also supported.
Pocket Sized

Pocket-sized and extremely portable, the DJI Osmo Pocket 3 is a tiny camera that lets you single-handedly record memorable moments. Equipped to stabilize movement and take sharp photos and smooth videos, it gives you the freedom to create magic at hand.

Quick Capture

Single-handed capture allows you to begin shooting in one second to capture photos and videos at the speed of life.

High-Definition Panorama
Get the whole mountain range with a 180° panorama or everyone in a group selfie with a 3×3 panorama. You won't believe how such a small camera can take such a big shot.

ActiveTrack 6.0
No matter how you move, ActiveTrack 6.0 ensures that you and your friends are always kept in the shot.

Time-Lapse & Hyperlapse
Time-lapse lets you turn hours into seconds. Motion-lapse adds smooth camera movement. Hyperlapse lets you travel through time.

DJI Mimo App for Wi-Fi & Bluetooth Connectivity
Monitor the camera view, set parameters, and control the camera using your iOS or Android mobile device. With Wi-Fi and Bluetooth support, you can transfer, edit, and share files, as well as live stream using Wi-Fi.
Hollywood-Quality Smoothness
The 3-axis motorized gimbal allows this tiny camera to create big-screen results.
Key Features
3-Axis Gimbal Stabilizer
1" CMOS Sensor
Up to 4K120 Resolution
2" Rotatable Screen
Smart Horizontal/Vertical Shooting
D-Log M & 10-Bit Support
Active Track 6.0
Up to 166 Minutes of Battery Life
USB-C PD Cable Included
Wi-Fi & Bluetooth Support
DJI Osmo Pocket 3
USB-C PD Cable
Protective Cover
Wrist Strap
Handle with 1/4"-20 Thread
Our on-line store is open 24/7 and we ship Monday through Thursday, excluding some holidays. Orders received for products without shipping restrictions on its product page will ship the same business day when received before 12:00 p.m. PST. Orders in high demand will have an estimated time listed on its product page and will ship according to the date listed.

Our on-line store is open 24/7 and we ship Monday through Thursday, excluding some holidays. Orders received for products without shipping restrictions on its product page will ship the same business day when received before 12:00 p.m. PST. Orders in high demand will have an estimated time listed on its product page and will ship according to the date listed.

Signature is required for most shipments.

*How long does it take for you to ship a product?*
This depends on your location, the method of shipping and the item you choose.

For in stock items inside the USA we typically ship by UPS and FedEx and for small items we ship by USPS. We typically ship items within 1-2 business days of the order for in stock shipment.

Ground Shipments can take up to 5 Business days from our Washington location. Express options are available by contacting us, but UPS and FedEx do NOT guarantee any shipments at this time.

USPS typically takes 2-3 business days for the smaller items by priority mail.

International shipments are typically sent by DHL or FedEx Express. Please note you are responsible for any customs fee, taxes and brokerage fees that may be due by importing an item into your country.

SHIPPING NOTES:

Orders under $50 = $25 Ground Shipping & Handling
Orders $50-499.99 = $20 Ground Shipping & Handling
Orders $500 or higher = FREE Ground Shipping & Handling
Contact us for Express Shipping Options
DHL Available for International Orders
While the FAA does not require insurance for drone flights, we highly recommend having insurance in case of mishaps with flying drones.  When you rent a drone it is your responsibility to use it in a manner consistent with the laws and return the drone in the same condition it was in before rental.  

There are two types of insurance for drones. 

Liability: One is liability insurance, this will cover your flights in the event of a crash or incident.

Hull Coverage: Hull coverage covers the drone if it is damaged.  Typically you must have liability insurance to get hull insurance.  The Sensor may also be covered separately if it is a removable sensor.

Check with your insurance provider to see if they cover the drone rental and flights.  If they do not, we highly recommend that you have insurance when you are flying drones.  We have found that Skywatch.ai offers some of the best options for Drone Insurance.
We boast a very large and diverse drone rental fleet of the latest aerial equipment for applications in cinematography, photography, inspection, survey, mapping, agriculture, power & energy and many other industries.
Do we offer Financing?  The short answer is YES we do!

To determine the best financing option, we need to determine if you are interested in a personal financing option or if you will be using a business to finance your purchase.

BUSINESS OPTIONS:

We work with 2 different companies for financing.  Each Organization has their own criteria for purchases. These Financing options are for US customers only.

BNC Financial
Specializes in equipment funding from $500 and up. Follow this link to to the the

 

financing application

.

First Pacific Funding
Financing options from $5000 and up. Follow this link to go to the 

financing application.

APPROVE Commercial Financing.  Add an item to your cart, then click on the APPROVE logo for an inline application on the right hand of your screen. Monthly Payments and rates vary depending on final terms.




 PERSONAL OPTIONS:

There are also 2 options to work with on a person level.  Think of a this as purchasing on a credit card and paying it off in a short time period. These are Buy Now, Pay Later options. Keep in mind that you may also use the personal options for business too.

Affirm 
Buy now, pay later without the fees.  Affirm is the smartest way to pay over time. Shop pretty much anywhere and pay at your own pace without any fees, so you can get the things you love without breaking your budget.  

Affirm is built into our website.  Click on the product you are interested in purchasing, then click on the 'Pre-qualify now' link.



Click Here to see the details on how it works


Shop Pay
This payment option works similar to Affirm.  If you do not see the shop pay option on the product page, click on "More payment options.

The Look for the button.

 

We look forward to working with you on your adventure into the drone space.  We encourage you to look through some of our Industry pages above.