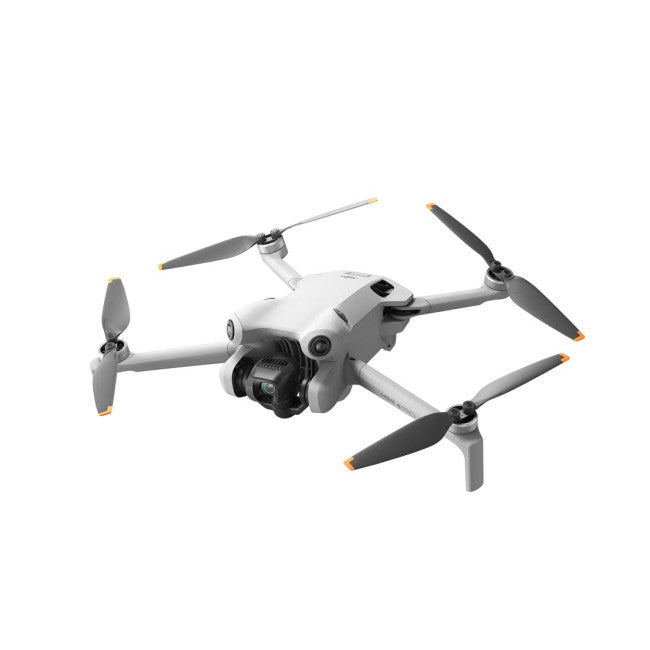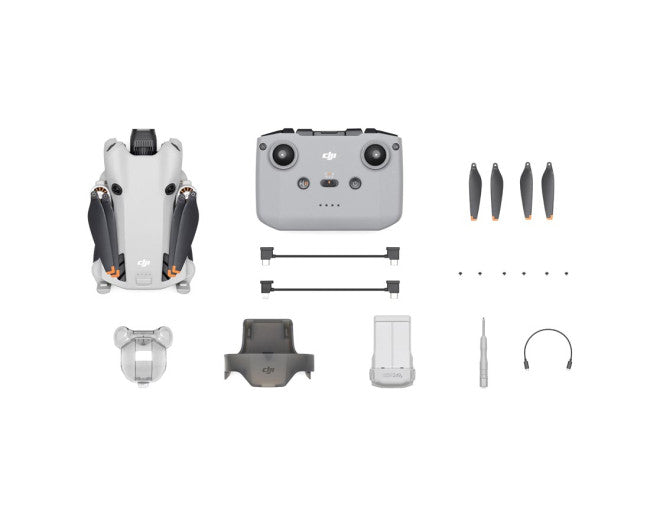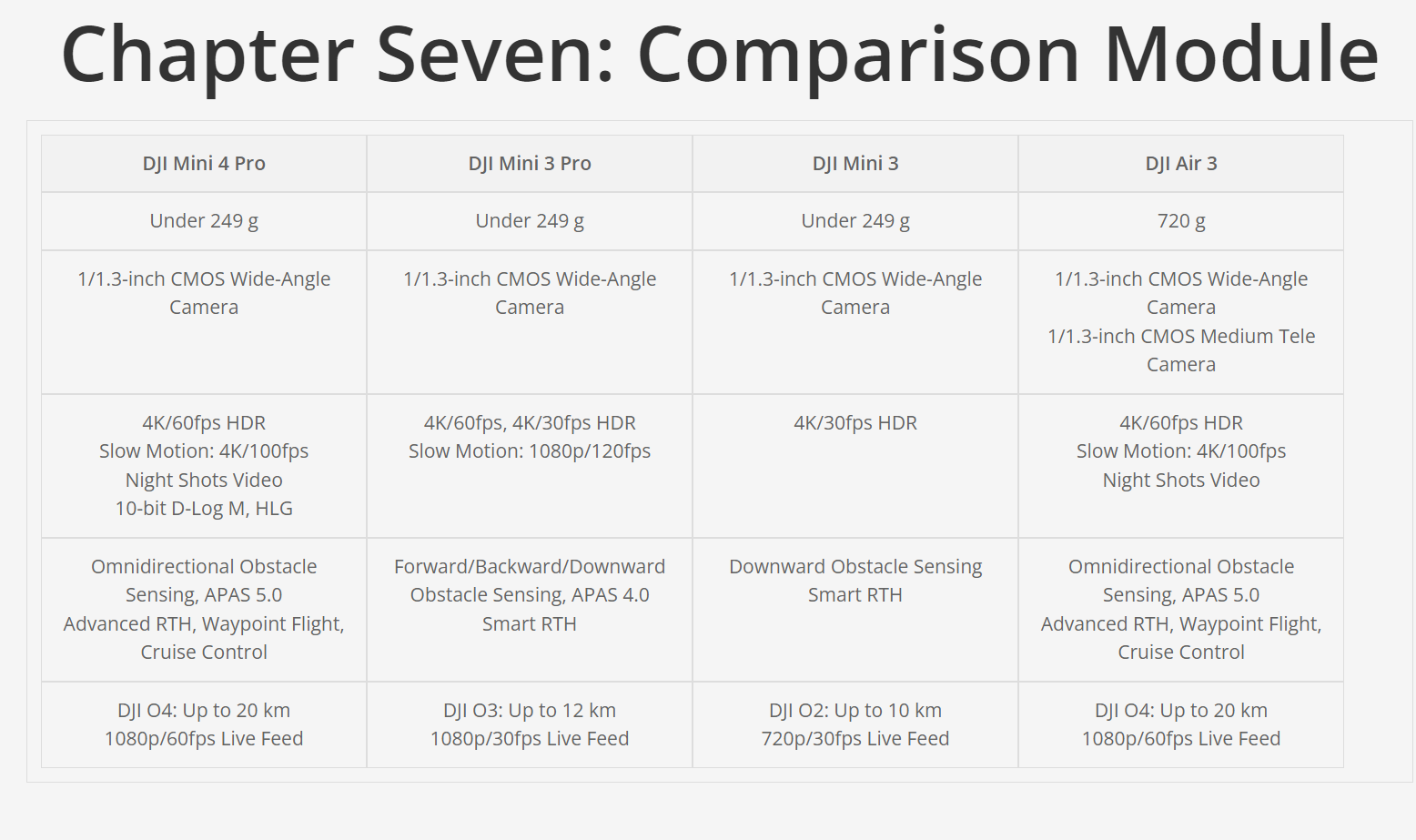 Double click image to zoom in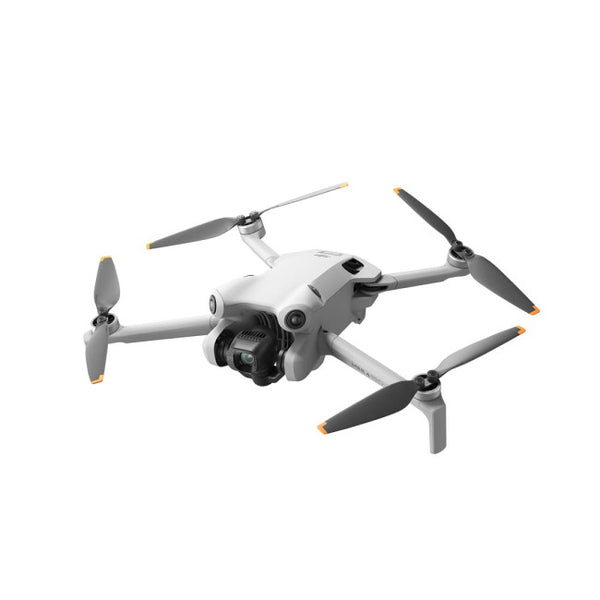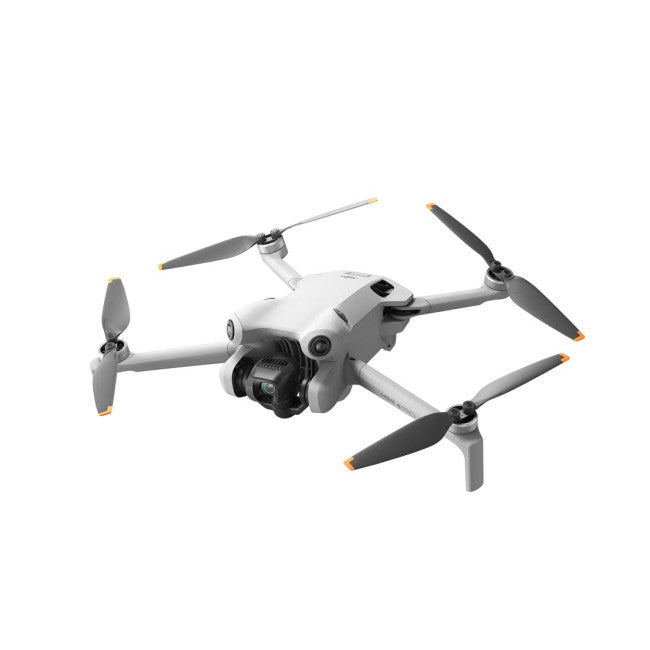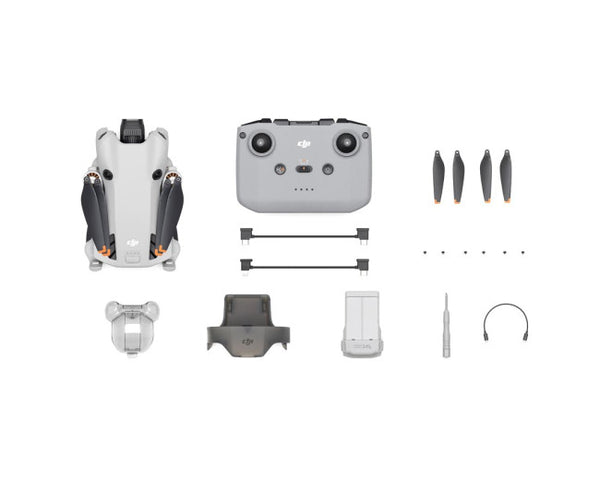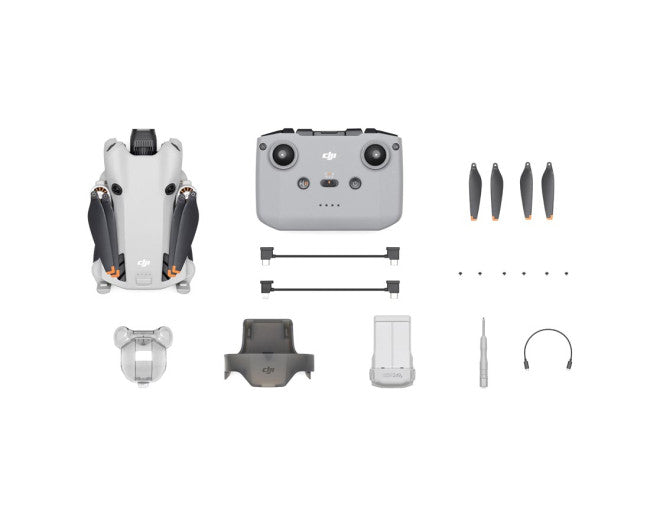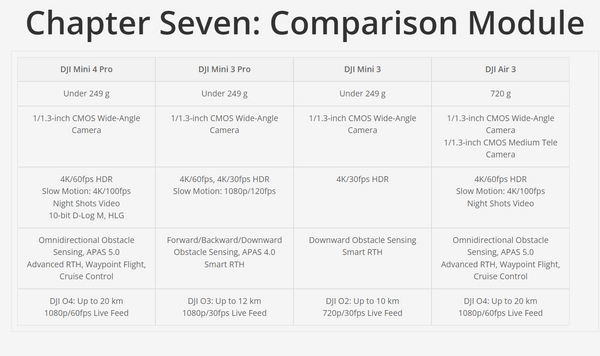 Click image to open expanded view



DJI - Mini 4 Pro (RC-N2) All-In-One Omni Obstacle Sensing Mini Camera Drone
Special Order - This item is a special order and delivery will be longer than normal. You can still order this product, and it will be shipped to you as soon as stock arrives. 
DJI MINI 4 PRO Mini to the Max
(Compatible with DJI Mini 3 Pro Intelligent Flight Battery)
Go Big With Mini
DJI Mini 4 Pro is our most advanced mini-camera drone to date. It integrates powerful imaging capabilities, omnidirectional obstacle sensing, ActiveTrack 360° with the new Trace Mode, and 20km FHD video transmission, bringing even more things to love for pros and beginners alike.

Chapter One: Take it Easy
Take off whenever the inspiration strikes. Weighing less than 249 g, Mini 4 Pro was designed for convenience on the go, and the drone's weight means there's no need for training or registration in a majority of countries and regions.

Chapter Two: Out-sized Imaging Performance
Capture more complex details easily with Mini 4 Pro's camera, powered by a 1/1.3-inch CMOS sensor featuring Dual Native ISO Fusion, f/1.7 aperture, and 2.4μm 4-in-1 pixels. More highlight and shadow details with a high dynamic range means uncompromising results in every frame.
Maximum Visual Impact
Give vibrant scenes the details they deserve with 4K/60fps HDR and 4K/100fps video, while 10-bit D-Log M and HLG help capture a stunning range of colors and provide more flexibility while editing and sharing.

4K/60fps HDR

Preserve the natural wonder of any moment. 4K/60fps HDR lets you share the nuances of sunset or sunrise in true-to-life quality.

Slo-Mo 4K/100fps

Immerse the audience in every frame. With slow motion in 4K clarity, capture the action on the trails, at the beach, or in your own backyard at 100fps.

Highlight the Night

The improved noise reduction algorithm of Mini 4 Pro's Night Shots video effectively suppresses noise and facilitates clearer, cleaner footage right from the camera.

1.07 Billion Colors

Record in 10-bit D-Log M and capture over one billion colors. The natural color gradations and delicate full-spectrum details mean Mini 4 Pro unlocks pro-level post-production control and expert-level creative editing flexibility.

Dynamic on Every Platform

No matter where you publish your content, HLG ensures the natural colors and brightness remain true-to-life without adjustment or format conversion due to its high dynamic range.

RAW-Some Photos

It's often the little things that matter most. Preserve every intricate detail with 48MP RAW and next-gen SmartPhoto which combines HDR imaging, scene recognition, and more for images that pop.

More Ways to See It All

Chapter Three: Intuitive Features, Enhanced Flights
Sense More, Fly Safe

Omnidirectional obstacle sensing makes Mini 4 Pro mighty safe. With four wide-angle vision sensors and a pair of downward vision sensors, it detects obstacles from all angles. Advanced Pilot Assistance Systems (APAS) ensures additional safety by enabling automatic braking and bypassing during flight.
Fly Longer, Create More

Leave battery concerns behind and stay focused on creation with Mini 4 Pro's Intelligent Flight Battery. Enjoy up to 34 minutes of flight time, or upgrade to the Intelligent Flight Battery Plus to enjoy an extra-long 45-minute max flight time.

34 mins | Intelligent Flight Battery

45 mins | Intelligent Flight Battery Plus

20 km Video Transmission

Mini 4 Pro features DJI's O4 video transmission. Enjoy ultra-responsive control and smooth 1080p/60fps FHD live feeds from distances of up to 20 km.

Full-Fledged Features
Chapter Four: Simply Masterful
A Touch of Cinematics

Mini 4 Pro has three effortless ways to get the shots you want: Spotlight, Point of Interest, and the revolutionary new ActiveTrack 360° with enhanced subject-tracking capabilities. Swipe a path on the trace wheel interface to capture seamless cinematic shots. With omnidirectional obstacle sensing, bypassing obstacles and achieving smoother, more stable tracking for pro-level results is shockingly simple.
Full Power Mini
master shots

Delivers dynamic camera movement templates tailored for portrait, close-up, and long-range shots, ensuring you nail every shot!

QuickShots

Provides Dronie, Circle, Helix, Rocket, Boomerang, and Asteroid modes for more stylish results.

Hyperlapse

Provides Free, Waypoint, Circle, and Course Lock modes with unlimited shooting time, and supports compositing while shooting.

Panorama

Supports shooting 180°, Wide Angle, Vertical, and Sphere panoramic photos to capture magnificent landscapes.

QuickTransfer

Quickly transfer photos and videos to your smartphone without linking the remote controller. Your creations will be instantly ready to share.

Edit with LightCut

LightCut supports wireless connection and intelligent recognition of composition and flight routes, so you can edit quickly and generate eye-catching videos with one tap. By blending imported footage from ActiveTrack, MasterShots, and QuickShots, the app automatically matches sound effects and exclusive templates for quick, high-quality video production. Plus, there is no need to download footage during the editing process, saving storage space on your smartphone.
One-Tap Editing

Uses AI technology to identify content types and themes, and then select highlight moments with smooth camera movement and exceptional composition to generate an effortlessly cinematic video. You can also easily create masterpieces using tailored settings for ActiveTrack, MasterShots, and QuickShots, enjoying efficient shooting and editing at once.

Intelligent Sound Effects

Generates immersive sound effects based on your video content in real-time, bringing your aerial creation to life by shifting from "silent" to "vibrant."

Countless Aerial Shot Templates

Offers extensive aerial shot templates, including nature, cityscape, tilt-shift effects, and more. Import your aerial footage to create stunning videos with minimal effort.

Chapter Five: Get More out of Mini
DJI RC 2

This lightweight and easy-to-use remote controller comes with the built-in DJI Fly app, eliminating the need for smartphone use during flight. The high-definition screen delivers a crisp and clear view even under direct sunlight, optimizing your entire Mini 4 Pro experience.

DJI Mini 4 Pro Intelligent Flight Battery Plus

The same Intelligent Flight Battery Plus for the DJI Mini 3 Series provides a max flight time of 45 minutes, ensuring a smooth and worry-free flight.

DJI Mini 4 Pro Two-Way Charging Hub

The same Two-Way Charging Hub used for the DJI Mini 3 Series. It can charge a remote controller and three batteries sequentially. It can also be used as a mobile power source to charge remote controllers, smartphones, and other devices and can even store the batteries for convenient carrying securely.

DJI Mini 4 Pro Wide-Angle Lens

Capture sweeping landscapes with the super-wide 100° FOV.

DJI Mini 4 Pro ND Filters Set (ND16/64/256)

Adapt to strong lighting conditions with ND16/64/256 filters and always be ready for the perfect shot.

DJI Mini 4 Pro 360° Propeller Guard

Fully covers the propellers and is easy to attach and detach, ensuring flight safety in a simple and efficient way.
* DJI Mini 4 Pro 1
* DJI RC-N2 1
* DJI RC-N2/N1 RC Cable (USB-C Connector) 1
* DJI RC-N2/N1 RC Cable (Lightning Connector) 1
* DJI Mini 4 Pro Intelligent Flight Battery 1
* DJI Mini 4 Pro/Mini 3 Pro Propellers (Pair) 1
* Screwdriver 1
* DJI Mini 4 Pro Gimbal Protector 1
* DJI Mini 4 Pro Propeller Holder 1
* Documents (Quick Start Guide and Safety Guidelines) 1
* Type-C to Type-C PD Cable 1
Our on-line store is open 24/7 and we ship Monday through Thursday, excluding some holidays. Orders received for products without shipping restrictions on its product page will ship the same business day when received before 12:00 p.m. PST. Orders in high demand will have an estimated time listed on its product page and will ship according to the date listed.

Our on-line store is open 24/7 and we ship Monday through Thursday, excluding some holidays. Orders received for products without shipping restrictions on its product page will ship the same business day when received before 12:00 p.m. PST. Orders in high demand will have an estimated time listed on its product page and will ship according to the date listed.

Signature is required for most shipments.

*How long does it take for you to ship a product?*
This depends on your location, the method of shipping and the item you choose.

For in stock items inside the USA we typically ship by UPS and FedEx and for small items we ship by USPS. We typically ship items within 1-2 business days of the order for in stock shipment.

Ground Shipments can take up to 5 Business days from our Washington location. Express options are available by contacting us, but UPS and FedEx do NOT guarantee any shipments at this time.

USPS typically takes 2-3 business days for the smaller items by priority mail.

International shipments are typically sent by DHL or FedEx Express. Please note you are responsible for any customs fee, taxes and brokerage fees that may be due by importing an item into your country.

SHIPPING NOTES:

Orders under $50 = $25 Ground Shipping & Handling
Orders $50-499.99 = $20 Ground Shipping & Handling
Orders $500 or higher = FREE Ground Shipping & Handling
Contact us for Express Shipping Options
DHL Available for International Orders
While the FAA does not require insurance for drone flights, we highly recommend having insurance in case of mishaps with flying drones.  When you rent a drone it is your responsibility to use it in a manner consistent with the laws and return the drone in the same condition it was in before rental.  

There are two types of insurance for drones. 

Liability: One is liability insurance, this will cover your flights in the event of a crash or incident.

Hull Coverage: Hull coverage covers the drone if it is damaged.  Typically you must have liability insurance to get hull insurance.  The Sensor may also be covered separately if it is a removable sensor.

Check with your insurance provider to see if they cover the drone rental and flights.  If they do not, we highly recommend that you have insurance when you are flying drones.  We have found that Skywatch.ai offers some of the best options for Drone Insurance.
We boast a very large and diverse drone rental fleet of the latest aerial equipment for applications in cinematography, photography, inspection, survey, mapping, agriculture, power & energy and many other industries.
Do we offer Financing?  The short answer is YES we do!

To determine the best financing option, we need to determine if you are interested in a personal financing option or if you will be using a business to finance your purchase.

BUSINESS OPTIONS:

We work with 2 different companies for financing.  Each Organization has their own criteria for purchases. These Financing options are for US customers only.

BNC Financial
Specializes in equipment funding from $500 and up. Follow this link to to the the

 

financing application

.

First Pacific Funding
Financing options from $5000 and up. Follow this link to go to the 

financing application.

APPROVE Commercial Financing.  Add an item to your cart, then click on the APPROVE logo for an inline application on the right hand of your screen. Monthly Payments and rates vary depending on final terms.




 PERSONAL OPTIONS:

There are also 2 options to work with on a person level.  Think of a this as purchasing on a credit card and paying it off in a short time period. These are Buy Now, Pay Later options. Keep in mind that you may also use the personal options for business too.

Affirm 
Buy now, pay later without the fees.  Affirm is the smartest way to pay over time. Shop pretty much anywhere and pay at your own pace without any fees, so you can get the things you love without breaking your budget.  

Affirm is built into our website.  Click on the product you are interested in purchasing, then click on the 'Pre-qualify now' link.



Click Here to see the details on how it works


Shop Pay
This payment option works similar to Affirm.  If you do not see the shop pay option on the product page, click on "More payment options.

The Look for the button.

 

We look forward to working with you on your adventure into the drone space.  We encourage you to look through some of our Industry pages above.