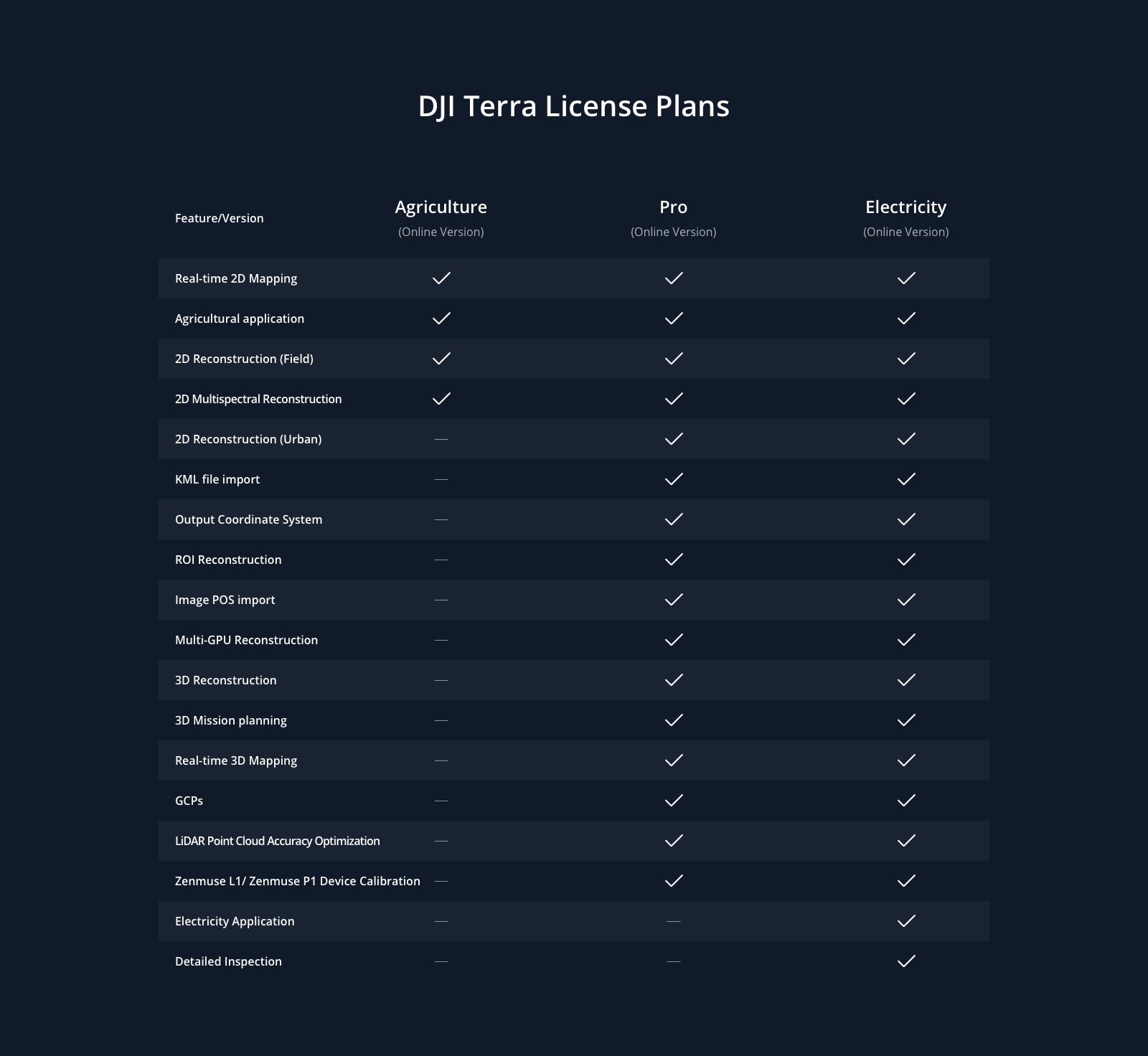 Double click image to zoom in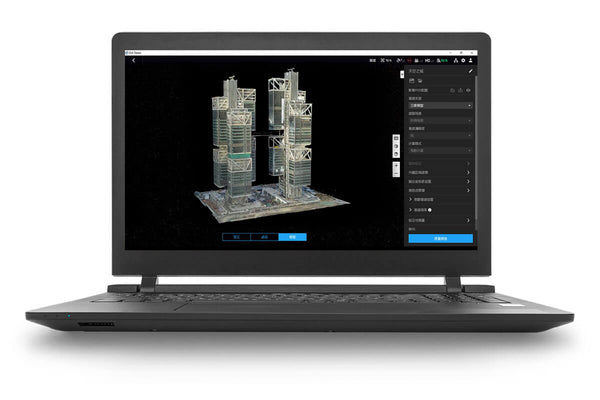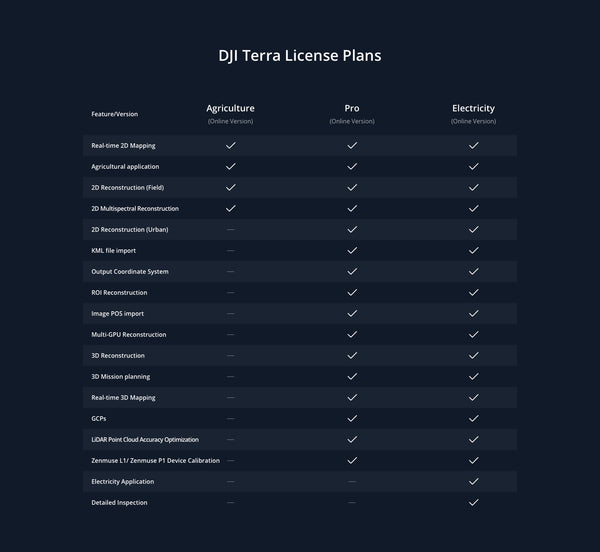 Click image to open expanded view


DJI - Terra Electricity 1 Year (1 device)
In stock! Usually ships within 1-2 business days
Pickup available at
209 S Tower Avenue
Usually ready in 2 hours
View store information
With DJI Terra Electricity Mapping Software and a compatible Phantom 4 drone, you can fly detailed aerial missions over specific areas, creating digital representations of what you see in 2D and 3D models. You can then process those images to help you in a variety of industrial and professional applications such as construction, infrastructure, or agriculture. This version of Terra adds the ability to map power lines and electrical structures for energy industry applications.
With Terra's analysis capabilities, you can acquire essential data on the structures and areas you've captured. Measure dimensions, distance, and more. You can even create annotation labels on your images to better communicate data with multiple teams or track them over time.
*Annual Pricing
Make the World Your Digital Asset
Capture, analyze and visualize your environment with DJI Terra – an easy to use mapping software developed to help industry professionals transform real-world scenarios into digital assets.
Features 
Automatic Flight Planning and Data Capture
DJI Terra helps commercial drone pilots quickly plan automated flights with several easy-to-use options based on the area or objects they'd like to capture and the type of map or 3D model they'd like to create. It features three mission planning types:
Area: Capture a specific area quickly and easily by drawing a custom polygonal flight zone on a map. DJI Terra automatically generates efficient flight path options based on the area selected.
Waypoint: Create dynamic custom flight paths through an area or around objects using waypoints and adjustable parameters like aircraft altitude, speed, heading, gimbal pitch and angle. For more complex missions that require high attention to detail, the 3D Flight Visualization feature enables the design and simulation of missions on existing 3D models.
Oblique: Capture a rich data set by automatically flying the same route multiple times. Each flight automatically adjusts the angle of the camera to capture new details, giving an extra crisp 3D model of the object or asset from multiple angles.
Real-time Mapping and Detailed 3D Models
Real-time mapping: DJI Terra allows drone pilots to quickly generate 2D orthomosaic maps as the drone flies, ideal for time-sensitive missions where situational awareness is critical and decisions need to be made in minutes.
Fast processing capability for efficient reconstruction: With DJI Terra, users can efficiently generate

realistic representations

of any environment through detailed 2D orthomosaics and 3D model reconstructions, used for industrial applications like reconstructing vehicle crashes, tracking progress on construction projects or conducting large-scale critical infrastructure inspections on bridges and roadways.
Easy Data Analysis
2D and 3D Measurement Tools: analyze data and generate instant insights with easy-to-use analysis tools that provide a variety of measurements including linear distance, surface area and volumetric estimations.
Annotation: To improve team communication and reporting throughout ongoing projects, annotation labels can be edited and shared.
Photo Inspection: Ideal for detailed site inspections and accident reconstruction situations, DJI Terra's photo inspection tool lets users

closely examine every photo used to create the model so they can pinpoint and highlight critical elements

.
Which aircraft are supported by DJI Terra?
Phantom 4 RTK (Remote Controller), Phantom 4 Pro V2.0, Phantom 4 Pro+ V2.0, Phantom 4 Pro, Phantom 4 Advanced and Phantom 4. The Phantom 4 does not support 2D Real-time Mapping.
USE OF WEBSITE PAYMENT SYSTEM

All payments made via this website will be the full charge of the purchase at the time the order is placed.  This includes special order and pre-order items.  If orders are cancelled before shipping a non-refundable transaction fee will apply.

RETURN POLICY

We offer a 10-day 'buyer's remorse' return policy on brand new purchases. Unopened boxes can be returned with no questions asked within the 10 day period from purchase.  Customer is responsible for shipping costs.

Opened product can be returned within the 10 day period but must be in like new condition and working order and not have been operated nor activated (subject to our discretion). Opened boxes will incur a 20% restocking.

Activated units are not returnable. Special Order items are NOT returnable.

All software, care codes, shield codes or insurance codes are non-refundable & not returnable.

After the 10 day period, all new sales are final.

Any defective merchandise needs to be reported to Blue Skies Drone Rental within 1 business day of receipt of the order and must be verified by Blue Skies Drone Rental.

Shipping and shipping costs are the responsibility of the customer.

The above policy does not apply to used purchases or to drone rentals.

Rentals are governed by the drone rental lease agreement.

USED PRODUCT SALES: The product can be returned within 3 days from delivery but will incur the equivalent rental fee as posted for the equipment for that time period. Any defective merchandise needs to be reported to Blue Skies Drone Rental within 1 business day of receipt of the order and must be verified by Blue Skies Drone Rental.  Following 3 days after delivery Used drone sales are final.

Shipping Policies:  We use DHL, USPS and FedEx as our shipping providers.  Generally they work well for us.  However, there are no guarantees on shipping.  If you use an express shipment method, there is no guarantee you will receive an item in 1, 2 or 3 days.  We do not offer refunds if shipping does not arrive on time for any reason. 

WARRANTY POLICY

NEW PUCHASES: Standard manufacturer warranty applies.  Customer must work with the manufacturer to get warranty service.  We can help you with the warranty process as part of our included services if you purchased from us.

USED PURCHASES: We offer a 30-day warranty for manufacturer defects affecting functionality.  Some units may have remaining manufacturer warranties.  This varies from product to product.

RENTALS: Rentals are governed by the Drone Rental Lease Agreement.

DRONE RENTAL LEASE AGREEMENT
While the FAA does not require insurance for drone flights, we highly recommend having insurance in case of mishaps with flying drones.  When you rent a drone it is your responsibility to use it in a manner consistent with the laws and return the drone in the same condition it was in before rental.  

There are two types of insurance for drones. 

Liability: One is liability insurance, this will cover your flights in the event of a crash or incident.

Hull Coverage: Hull coverage covers the drone if it is damaged.  Typically you must have liability insurance to get hull insurance.  The Sensor may also be covered separately if it is a removable sensor.

Check with your insurance provider to see if they cover the drone rental and flights.  If they do not, we highly recommend that you have insurance when you are flying drones.  We have found that Skywatch.ai offers some of the best options for Drone Insurance.
We boast a very large and diverse drone rental fleet of the latest aerial equipment for applications in cinematography, photography, inspection, survey, mapping, agriculture, power & energy and many other industries.
Do we offer Financing?  The short answer is YES we do!

To determine the best financing option, we need to determine if you are interested in a personal financing option or if you will be using a business to finance your purchase.

BUSINESS OPTIONS:

We work with 2 different companies for financing.  Each Organization has their own criteria for purchases. These Financing options are for US customers only.

BNC Financial
Specializes in equipment funding from $500 and up. Follow this link to to the the

 

financing application

.

First Pacific Funding
Financing options from $5000 and up. Follow this link to go to the 

financing application.

APPROVE Commercial Financing.  Add an item to your cart, then click on the APPROVE logo for an inline application on the right hand of your screen. Monthly Payments and rates vary depending on final terms.




 PERSONAL OPTIONS:

There are also 2 options to work with on a person level.  Think of a this as purchasing on a credit card and paying it off in a short time period. These are Buy Now, Pay Later options. Keep in mind that you may also use the personal options for business too.

Affirm 
Buy now, pay later without the fees.  Affirm is the smartest way to pay over time. Shop pretty much anywhere and pay at your own pace without any fees, so you can get the things you love without breaking your budget.  

Affirm is built into our website.  Click on the product you are interested in purchasing, then click on the 'Pre-qualify now' link.



Click Here to see the details on how it works


Shop Pay
This payment option works similar to Affirm.  If you do not see the shop pay option on the product page, click on "More payment options.

The Look for the button.

 

We look forward to working with you on your adventure into the drone space.  We encourage you to look through some of our Industry pages above.
Our on-line store is open 24/7 and we ship Monday through Thursday, excluding some holidays. Orders received for products without shipping restrictions on its product page will ship the same business day when received before 12:00 p.m. PST. Orders in high demand will have an estimated time listed on its product page and will ship according to the date listed.

Our on-line store is open 24/7 and we ship Monday through Thursday, excluding some holidays. Orders received for products without shipping restrictions on its product page will ship the same business day when received before 12:00 p.m. PST. Orders in high demand will have an estimated time listed on its product page and will ship according to the date listed.

Signature is required for most shipments.

*How long does it take for you to ship a product?*
This depends on your location, the method of shipping and the item you choose.

For in stock items inside the USA we typically ship by UPS and FedEx and for small items we ship by USPS. We typically ship items within 1-2 business days of the order for in stock shipment.

Ground Shipments can take up to 5 Business days from our Washington location. Express options are available by contacting us, but UPS and FedEx do NOT guarantee any shipments at this time.

USPS typically takes 2-3 business days for the smaller items by priority mail.

International shipments are typically sent by DHL or FedEx Express. Please note you are responsible for any customs fee, taxes and brokerage fees that may be due by importing an item into your country.

SHIPPING NOTES:

Orders under $50 = $25 Ground Shipping & Handling
Orders $50-499.99 = $20 Ground Shipping & Handling
Orders $500 or higher = FREE Ground Shipping & Handling
Contact us for Express Shipping Options
DHL Available for International Orders
Talk to an Expert

844-474-8833