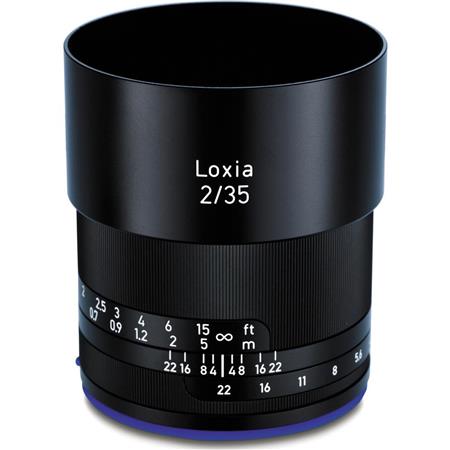 Double click image to zoom in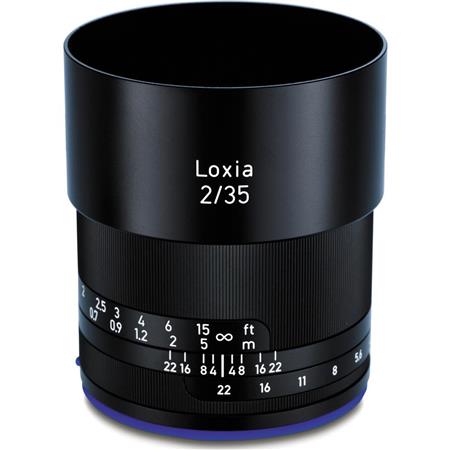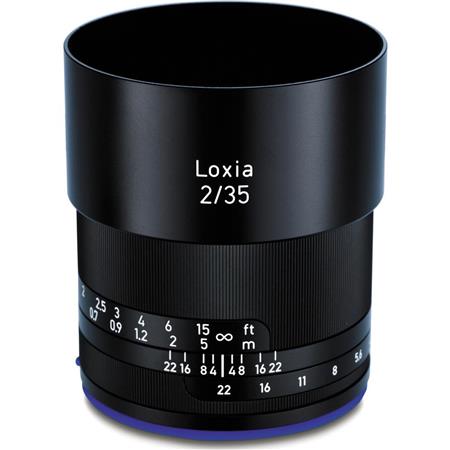 Zeiss Loxia 35/2 Sony E Mount Lens
Special Order - This item is a special order and delivery will be longer than normal. You can still order this product, and it will be shipped to you as soon as stock arrives. 
The Zeiss Loxia 35mm f/2 Biogon T* Lens for Sony E Mount is a compact, flexible all-rounder with bright f/2 maximum aperture suitable for a wide range of photography applications, including travel, landscapes, portraiture, night photography and more. The main feature of the Loxia range of lenses is the ability to deactivate the 'click' of the aperture ring by turning a screw on the lens mount (tool supplied to enable this), this will appeal to the creative individuals who want to capture stills and videos. The 50mm f2 is a manual focus lens designed specifically for use with full-frame compact system cameras that feature a Sony E-mount.

Zeiss Loxia 2/50 - The flexible all-rounder
A 50mm lens was legendary photographer Cartier Bresson's favorite. The reason is simple: this focal length provides the equivalent field of view of the human eye on a 35mm camera, which makes for a very natural perspective. Compact, light and extremely flexible, the Zeiss Loxia 2/50 shines in the most varied of applications. Regardless of whether it's for street photography, landscapes, portraits or spontaneous discoveries, the Zeiss Loxia 2/50 is the ideal companion for photographic and filmic exploration. Zeiss Loxia lenses were specifically designed for Sony a7 cameras. This means that they can make the most of the mirrorless, full frame system, while giving you all the creative possibilities of ?classic' photography with manual focus at the same time. The Zeiss Loxia lenses also provide everything you need to shoot high quality video, such as the unique DeClick feature for smooth adjustment of the aperture.

DeClick feature
One completely new feature of the Loxia lens is that you can 'declick' the aperture's locking mechanism using a tool (supplied) and an adjustment screw on the bayonet surface. This means that for video applications, you can smoothly eliminate any unwanted differences in brightness as you pan the camera. This feature can also be used with other video systems whose size makes them suitable for adaption.

Precise manual focus
Manually focusing a lens means controlling the image result from your fingertips. A good ergonomic design makes all the difference. Zeiss lenses stand out with their large rotation angle which enables precise focusing. Changes are immediately visible in the viewfinder. The high-quality focusing mechanism moves smoothly without play, thus also supporting the intuitive interaction with the focal plane. The precise engraving in meter and feet and the depth of focus scale provide additional support for manually focusing.

Virtually distortion-free optics
Dramatic perspectives and a view from extraordinary image angles - Zeiss lenses open up new composition possibilities. Distortion would disrupt the composition because straight lines, whose image does not go through the image center, would be reproduced with a curved shape. This annoying effect is accordingly and largely compensated through elaborate optical designs at all focal lengths.

High-grade full-metal casing
Tangible quality that holds its value is what qualifies Zeiss lenses for decades of hard use. A precision-engineered full-metal casing, grippy focus and aperture rings made of metal and a tough front bayonet and filter screw assure stunning photographic results. A special sealing ring on the bayonet also protects the interface between the camera and the lens.

Full frame compatible
Zeiss lenses are suitable for digital Sony Alpha cameras and have been optimized for film and sensors up to full 35 mm format (24 x 36 mm).
This product can only be shipped to U.S. addresses.
Our on-line store is open 24/7 and we ship Monday through Thursday, excluding some holidays. Orders received for products without shipping restrictions on its product page will ship the same business day when received before 12:00 p.m. PST. Orders in high demand will have an estimated time listed on its product page and will ship according to the date listed.

Our on-line store is open 24/7 and we ship Monday through Thursday, excluding some holidays. Orders received for products without shipping restrictions on its product page will ship the same business day when received before 12:00 p.m. PST. Orders in high demand will have an estimated time listed on its product page and will ship according to the date listed.

Signature is required for most shipments.

*How long does it take for you to ship a product?*
This depends on your location, the method of shipping and the item you choose.

For in stock items inside the USA we typically ship by UPS and FedEx and for small items we ship by USPS. We typically ship items within 1-2 business days of the order for in stock shipment.

Ground Shipments can take up to 5 Business days from our Washington location. Express options are available by contacting us, but UPS and FedEx do NOT guarantee any shipments at this time.

USPS typically takes 2-3 business days for the smaller items by priority mail.

International shipments are typically sent by DHL or FedEx Express. Please note you are responsible for any customs fee, taxes and brokerage fees that may be due by importing an item into your country.

SHIPPING NOTES:

Orders under $50 = $25 Ground Shipping & Handling
Orders $50-499.99 = $20 Ground Shipping & Handling
Orders $500 or higher = FREE Ground Shipping & Handling
Contact us for Express Shipping Options
DHL Available for International Orders
While the FAA does not require insurance for drone flights, we highly recommend having insurance in case of mishaps with flying drones.  When you rent a drone it is your responsibility to use it in a manner consistent with the laws and return the drone in the same condition it was in before rental.  

There are two types of insurance for drones. 

Liability: One is liability insurance, this will cover your flights in the event of a crash or incident.

Hull Coverage: Hull coverage covers the drone if it is damaged.  Typically you must have liability insurance to get hull insurance.  The Sensor may also be covered separately if it is a removable sensor.

Check with your insurance provider to see if they cover the drone rental and flights.  If they do not, we highly recommend that you have insurance when you are flying drones.  We have found that Skywatch.ai offers some of the best options for Drone Insurance.
We boast a very large and diverse drone rental fleet of the latest aerial equipment for applications in cinematography, photography, inspection, survey, mapping, agriculture, power & energy and many other industries.
Do we offer Financing?  The short answer is YES we do!

To determine the best financing option, we need to determine if you are interested in a personal financing option or if you will be using a business to finance your purchase.

BUSINESS OPTIONS:

We work with 2 different companies for financing.  Each Organization has their own criteria for purchases. These Financing options are for US customers only.

BNC Financial
Specializes in equipment funding from $500 and up. Follow this link to to the the

 

financing application

.

First Pacific Funding
Financing options from $5000 and up. Follow this link to go to the 

financing application.

APPROVE Commercial Financing.  Add an item to your cart, then click on the APPROVE logo for an inline application on the right hand of your screen. Monthly Payments and rates vary depending on final terms.




 PERSONAL OPTIONS:

There are also 2 options to work with on a person level.  Think of a this as purchasing on a credit card and paying it off in a short time period. These are Buy Now, Pay Later options. Keep in mind that you may also use the personal options for business too.

Affirm 
Buy now, pay later without the fees.  Affirm is the smartest way to pay over time. Shop pretty much anywhere and pay at your own pace without any fees, so you can get the things you love without breaking your budget.  

Affirm is built into our website.  Click on the product you are interested in purchasing, then click on the 'Pre-qualify now' link.



Click Here to see the details on how it works


Shop Pay
This payment option works similar to Affirm.  If you do not see the shop pay option on the product page, click on "More payment options.

The Look for the button.

 

We look forward to working with you on your adventure into the drone space.  We encourage you to look through some of our Industry pages above.